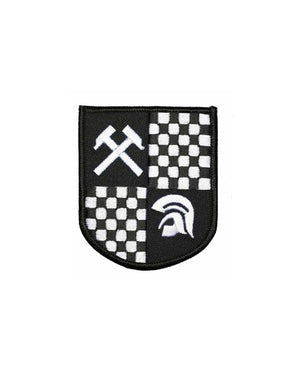 Embroidered '2 Tone Shield' patch which can be ironed on, sewn on or both.  
Dimensions: 6.75w x 8h cm
Recommended as iron on for cotton, denim and non-stretch natural fabrics. For all other materials, such as nylon, it should be sewn on.
WE ADVISE PURCHASING THIS PATCH AS AN ADD-ON ITEM, AS PART OF A LARGER ORDER, TO MINIMISE POSTAGE COST PER UNIT.
Please follow instructions carefully to ensure a successful application:
1. Preheat iron to a high heat. This is necessary for the adhesive on the back of the patch to adhere to the fabric.
2. Place the patch, sticky side down, onto the desired position of the garment. Cover it with a tea towel.
3. Place the iron onto the design and press firmly. Move the iron around the area for at least two minutes.
4. Remove the tea towel and check around the edges of the patch. If there are still parts that did not adhere to the fabric then repeat the above steps.
5. To avoid wear and tear it may be necessary to stitch around the edges.