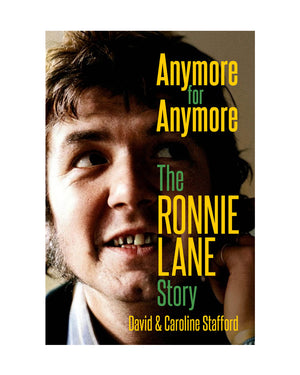 Ronnie Lane was an English musician and songwriter who is best known as the bass guitarist and founding member of Small Faces (1965–69) and subsequently Faces (1969–73).
His story is that of a working-class kid who started his musical career busking a ukulele at the age of eight. As a young man he signed with legendary manager Don Arden, who paid him in paisley shirts. He then enjoyed a phenomenal 17 consecutive Top 40 singles, womanising and LSD, and fell under the spell of a mystic before joining forces with Rod Stewart. Ronnie was later diagnosed with multiple sclerosis, moved to America, went broke and died far too young.

Drawing on extensive research and interviews with friends and family, Caroline and David Stafford unearth the truth and talent of the man behind the music.
Authors: Caroline & David Stafford
Publisher: Omnibus Press
Release date: 18 August 2023
Format: Hardback, 320 pages
Language: English