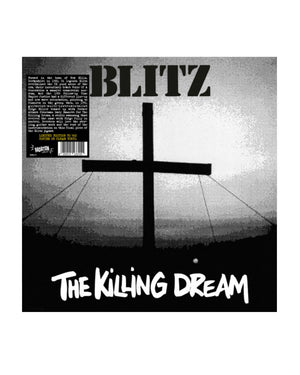 Blitz were an English punk rock band from New Mills, Derbyshire, formed in 1980. 
The original Blitz line-up consisted of Carl Fisher (vocals), Charlie Howe (percussion), Nidge Miller (guitar), and Neil 'Mackie' McLennan (bass). The band had success in the United Kingdom indie charts in the early 1980s. With both punk and skinhead members, they were enthusiastically championed by Sounds magazine writer Garry Bushell. They had sent him their demo tape early in 1981. Bushell who labeled them Oi!, was impressed enough to put two of their tracks on that year's Carry On Oi compilation: Nation On Fire and Youth. He helped them secure a deal with the record label No Future in 1981, and their first release was the 7" EP All Out Attack. 
The Killing Dream full-length album was originally released in 1989.
Format: 12" clear vinyl
Label: Radiation Records
Release date: 20 May 2023 repress
Tracklist:

The Killing Dream
All You Want
Overdrive
Empire Fall
Intermission 1
Those Days
Intermission 2
Final Hour
Thrown Away
Don't Care
Lady Anne
Walk Away
Fade