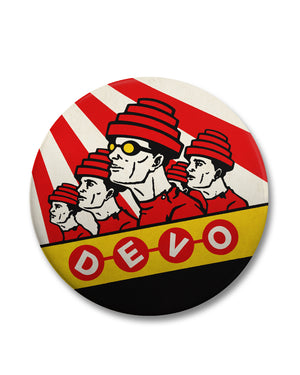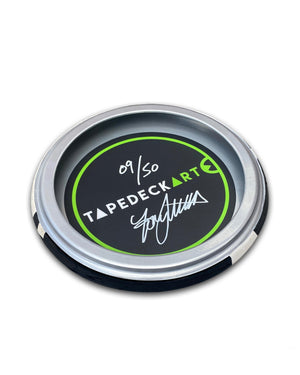 This extra large limited edition pin badge is the work of Tony Dennis of Tape Deck Art. Part of a collection of oversized badges which are intended to be wall hung, the designs are taken from actual pins from the 1970s and 1980s which were collected by the self-taught British artist.
Age marks have been added to some of the designs to make the badges look more authentic. Colour disfiguration and rust marks add to the look of badges that have been well loved and well worn for many years.

About the Artwork

Devo is an American rock band from Ohio, formed in 1973. Devo music and stage shows mingle kitsch science fiction themes, deadpan surrealist humor and mordantly satirical social commentary. Their early dissonant songs use synthetic instrumentation and time signatures proven influential on subsequent popular music, particularly new wave, industrial, and alternative rock artists.
According to co-founder and bass player Gerald 'Jerry' Casale on the band's fan-site DEVO-OBSESSO, the band's Energy Dome helmet was designed according to ancient ziggurat mound proportions used in votive worship. Like the mounds it collects energy and recirculates it. In this case the Dome collects the Orgone energy that escapes from the crown of the human head and pushes it back into the Medulla Oblongata for increased mental energy. 
Mark Mothersbaugh, the band's co-founder, lead singer and keyboardist told USA Today in 2009 "We designed them, Jerry and I. We were influenced both by German Bauhaus movement and geometric fashion, and Aztec temples. We just liked the look. It looked good, and it didn't look like any other bands out there. We weren't interested in wearing groovy hats or groovy clothing. We kind of looked like Lego toys or something by the time we got those on our heads, and that was a positive thing."
About the Artist

Tony Dennis paints and creates oversized badges, selling them in galleries in the UK, Europe and the United States.

In 2018, Tony worked with French graffiti artist Invader and produced 10 giant pin badges for his LA exhibition Into the White Cube. The badges produced were showcased in the LA Times.
In 2020, Tony released 20 giant Prodigy badges after the band commissioned them. All badges sold out within four minutes of going on sale.
Tony has worked with the Hard Rock chain and produced giant badges for their Dublin hotel.

Buyers include Noel Gallagher, Maxim from The Prodigy, Taron Egerton and Paddy Considine.
All badges are handmade by the artist and produced in the UK.
Limited edition of 50 pieces
Hand signed and numbered*
20 diameter x 2d cm
Hand painted in acrylic paints using stencils
Artwork printed onto a gloss laminate vinyl and wrapped onto a hand spun aluminium badge
Powder coated and hand finished
UV protected
Wall fixings included
*The image of the back of the badge is representative. The limited edition number that you receive will likely differ from that shown.
Dispatch
Up to three working days if item is in stock. In busy times the product may be made to order so please add an extra seven days approximately. If needed urgently as a present please contact us by email to check if we have stock - mail@oioitheshop.co.uk

IF THIS GIANT PIN BADGE IS PART OF YOUR LARGER ORDER WE WILL DISPATCH ALL ITEMS TOGETHER.