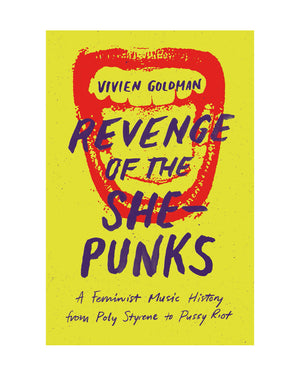 As an industry insider and pioneering post-punk musician, Vivien Goldman's perspective on music journalism is unusually well-rounded. In Revenge of the She-Punks: A Feminist Music History from Poly Styrene to Pussy Riot, she probes four themes―identity, money, love, and protest―to explore what makes punk such a liberating art form for women.

With her visceral style, Goldman blends interviews, history, and her personal experience as one of Britain's first female music writers in a book that reads like a vivid documentary of a genre defined by dismantling boundaries. A discussion of the Patti Smith song Free Money, for example, opens with Goldman on a shopping spree with Smith. Tamar-Kali, whose name pays homage to a Hindu goddess, describes the influence of her Gullah ancestors on her music, while the late Poly Styrene's daughter reflects on why her Somali-Scots-Irish mother wrote the 1978 punk anthem Identity, with the refrain "Identity is the crisis you can't see." Other strands feature artists from farther afield (including in Colombia and Indonesia) and genre-busting revolutionaries such as Grace Jones, who wasn't exclusively punk but clearly influenced the movement while absorbing its liberating audacity. From punk's Euro origins to its international reach, this is an exhilarating world tour.
About the Author
Vivien Goldman began her career as a journalist for Cassettes and Cartridges. She then became a PR officer for Atlantic Records and then Island Records, where she worked with Bob Marley. She was a writer and editor for London-based Sounds magazine in the late 1970s. In the early 1980s she began making documentaries for Channel Four television, developing and producing the world-music show Big World Cafe.
She wrote for the music magazines NME, Sounds and Melody Maker about reggae, punk and post-punk. She was a member of The Flying Lizards, shared a flat with fellow NME journalist and The Pretenders singer Chrissie Hynde.
Goldman is a documentarian and adjunct professor of punk and reggae at New York University's (NYU) Clive Davis Institute of Recorded Music. She is also an adjunct professor of musical cultures and industry at Rutgers University's School of Communication and Information (Rutgers University).
Reviews
[Revenge of the She-Punks] subverts historiographical norms by offering a history arranged conceptually rather than chronologically. Goldman's reader doesn't need a timeline to understand the ways in which women musicians have engaged in meaningful dialogue with one another despite geographic barriers and persistent exclusion from a male-dominated industry. As Goldman illumines, part of crafting a feminist history involves breaking down the boundaries that define what a history looks like. If other histories draw vertical and horizontal connections between people and places, Goldman shows how she-punks are connected by spirals and flashing lightning bolts. ― Louder Than War
This book should restore Goldman's place in the rock-crit firmament just as she sets out to give punk's women their long-denied dues. ― The Guardian
Goldman…tells the fascinating tale of how feminist punk evolved…It's a decades-long story full of radical women making their own noise. ― Rolling Stone, 'Best Music Books of 2019'
Author: Vivien Goldman
Publisher: Omnibus Press
Release date: 27 June 2019
Format: Paperback, 224 pages
Language: English