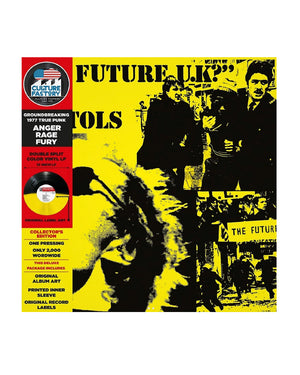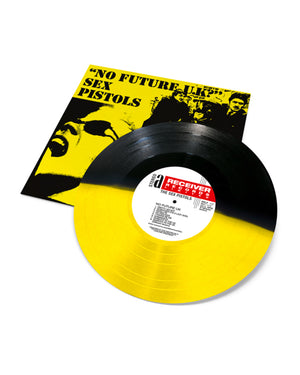 No Future was the original title for Sex Pistols God Save the Queen. The phrase "no future", the song's closing refrain, became emblematic of the punk rock movement.
This album comprises of studio demos and talking recorded with Dave Goodman during 1976 and early 1977, while original bass player Glen Matlock was still a member of the band. Original label art is included.
Most of the songs would later be re-recorded and officially released on the group's album, Never Mind the Bollocks, Here's the Sex Pistols.
Format: black and yellow split vinyl LP
Label: Culture Factory
Release date: 1 October 2021
Tracklist:
Pretty Vacant

Seventeen (I'm A Lazy Sod)

Satellite

No Feelings

I Wanna Be Me

Submission

Anarchy in the UK

Anarchy in the UK (different version)

No Fun

God Save The Queen

Problems 

Pretty Vacant (different version)

Liar

EMI

New York (Lookin' for A Kiss)