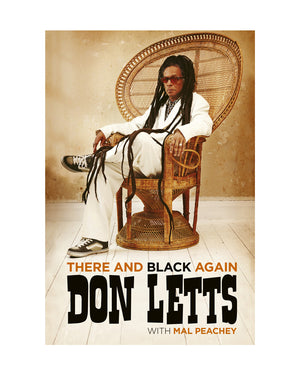 Don Letts has always defied conformity. A British-born son of Windrush parents, he seamlessly pivoted between London's punk and reggae scenes – earning his reputation as the 'Rebel Dread'.

In There and Black Again, Don Letts looks back on his exceptional life, which has seen him befriend Bob Marley after sneaking into his hotel, join The Clash's White Riot tour as manager of The Slits and become one of the UK's most highly regarded video directors just as the MTV boom hit.

Told in part as scenes from a movie shot on location in London, Kingston, New York City, Los Angeles, Windhoek, Salt Lake City and Goldeneye, There and Black Again co-stars a cast of hundreds, including Joe Strummer, John Lydon, Bob Marley, Chrissie Hynde, Chris Blackwell, Paul McCartney, Nelson Mandela, Keith Richards, Patti Smith, Chuck D., Malcolm McLaren and Vivienne Westwood.

With reflections on the Black Lives Matter movement and the highs and lows of personal relationships, this impactful book includes moments of civil unrest, live music, humour and political struggle. There and Black Again is the refreshing and often unexpected story of a man who has never been afraid to tread his own path.

-
"When I tell people my first point of entry into youth subculture was via skinheads they look somewhat confused, not understanding I'm talking about the fashion version, not the fascist version. I hope my film goes some way to clarifying what was the UK's first real multi-cultural movement."
in 2019 Letts presented an hour long documentary for the BBC, The Story of Skinhead. He showed in fascinating detail how the roots of skinhead are in a brilliant cultural collision between the young white working-class kids and their Jamaican counterparts in British inner cities, a moment of multicultural harmony. He traced the history of skinhead from the late 60s to the present, looking at the music and styles of skinhead from the reggae-influenced ska to the punk-influenced Oi. Throughout Letts met people who were committed members of various skinhead scenes, and he considers the conflicts and the contradictions that skinhead has attracted over five decades.
Part of the documentary was filmed in Oi Oi The Shop, in our old location in the basement of the Stables Market, Camden.
Reviews

The Don's tale, upgraded, expanded, marinated in late-life wisdom… reflecting on a remarkable life, against the backdrop of covid turmoil and Black Lives Matter. Letts expands on everything… even opening up on relationship roller-coasters. The fullest picture yet of the man behind the shades. - Classic Rock
Magnificent piece of work. - Please Kill Me

It's a hoot of a book…but also probes the highs and lows of Letts's personal life and offering pertinent insights into race. - The Irish Times 
Authors: Don Letts with Mal Peachey
Publisher: Omnibus Press
Release date: 3 November 2021
Format: Hardback, 352 pages
Language: English