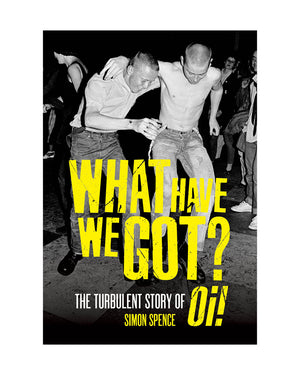 The story of a movement and genre that became a genuine national concern 
in the early 1980s and still divides opinion today. Despite the scene's inspiring
core message of working-class solidarity, Oi! has continually been disregarded by
generations of rock critics.

This is the first book about the overlooked and much misunderstood Sham 69,
and the first deep dive into the story behind the controversial Oi! movement, but
one that refuses to shy away from the darker corners of its history.
Interviewees include Jeff from Cockney Rejects, Trev from Crown Court, Phil from The Templars, Victor from Lion's Law, Saxby from The Warriors, Bill and Sarah from Oi Oi The Shop.
What Have We Got? The Turbulent Story of Oi! is written by Simon Spence, whose passion for music from different genres has seen him produce biographies on musicians including Pete Doherty, Happy Mondays, Steve Marriott, Depeche Mode and The Stone Roses.
FREE BOOKMARK WITH EVERY ORDER - produced by and exclusive to Oi Oi The Shop 
Author: Simon Spence
Publisher: Omnibus Press
Release date: 22 August 2023 (Oi Oi The Shop) / 31 August 2023 (other stockists)
Format: Paperback, 320 pages
Language: English